---
---
Yoga is something I chat about with so many patients as part of their wholistic treatment plan – especially when it comes to effectively tackling stress, anxiety and hormone balance.  The irony is, when yoga is needed the most, it is with patients that are often struggling to fit yet another thing in to their day!
Introducing NATUROPATHIC YOGA
The beautiful Amy from Naturopathic Yoga is offering a solution – online yoga, targeting body systems naturopathically.  It can complement your existing practice at your local studio or it can be used as your introduction to yoga.  It can be done as an online daily practice in your own home, in your own time AND in those favourite threadbare no brand see through tights that you just can't bare to part with because they are just too damn comfy and bring you too much joy (Marie Kondo approved!)
As Naturopathic Yoga is developed by a Naturopath, it is tailored specifically to your health goals – whether that be better gut health, adrenal support – she even has a specific thyroid series!  It also means it is suited to your stage of health and life.
---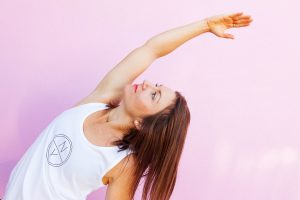 ---
Complement your existing practice! OR trying yoga for the first time? OR living remote with no yoga for miles!
Naturopathic Yoga is a beautiful complement for your existing yoga practice with your local yoga studio.

 

Or if you're remote, like I was up in East Arnhem where the only chance we had for yoga was to downward dog our way to the back of the Woolies shelf to try and find some stock that wasn't out of date, then online Naturopathic Yoga may be a solution for you.
Or perhaps you've been putting off going to a yoga class, afraid that everyone there can fold themselves in half and the thought of touching your knees brings anxiety, let alone touching your toes!  Naturopathic Yoga at home will get you realising you don't need to be instaperfect and provide you with the confidence to get yourself off to that class at your local studio you've been dreaming of.  
Or perhaps your partner works away, or your work demands mean you can't get to your favourite class time each day, or perhaps the only chance you get to salute the sun is when you are quickly hanging out that load of washing in between finishing work and dropping the kids to soccer training!
Naturopathic Yoga allows yoga to become a daily practice when getting to a class every day is not an option, or you're remote or you know the only chance you get for that 10 minute opportunity to burn off the crazy is at 9pm at night once the kids have passed out!  
As we always talk about in clinic – it is only when we address the physical, chemical and emotional stressors that true freedom from fatigue and stress becomes a reality.  Prioritising yourself with yoga practice is a huge step in that direction. 
Try it – 10 minutes, 3 times a week and see what changes happen for you!
This is an affiliate link, which means at no extra cost to you I receive a small commission (think coffees not condos!) if you click through and make a subscription purchase to Naturopathic Yoga using this link.  I proudly support products and programs that are quality and provide added value for my patients and community that I am thankful to be working with.  
Please follow and like Emily Connell Nutritional Medicine